Main Page
From Arduino Miniconf
Registration
If all you came here for is the registration form, please see | Arduino Miniconf 2014 Registration Form
Email list
To stay in contact between conferences, the following Google Group email list has been set up. This will be good for technical support, letting each other know what we've done with our projects and preparation for the next Arduino Mini-Conference, LCA2014 in Perth.
Arduino Miniconf 2014
What
The Arduino Miniconf is a 1-day event that runs in conjunction with the linux.conf.au conference. It gives participants an opportunity to learn basic hardware skills such as soldering, by assembling their own Arduino-compatible project, and then the afternoon is filled with interesting talks about various projects and techniques related to Arduino and open hardware in general. To give you some idea what to expect, this is the hardware assembly session at the 2011 Arduino Miniconf: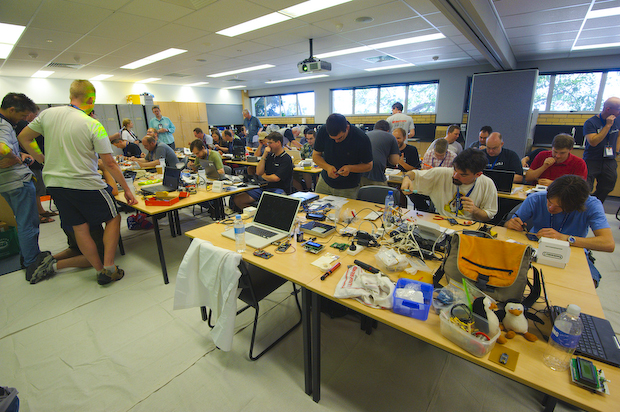 (Photo by Andrew McMillan, CC2.0)
After the assembly session is over the room is cleaned up a bit and the talks begin. It's a fun and educational event!
When
Tuesday, January 7th, 2013, promptly after the LCA opening ceremony and morning tea. Please don't be late!
Where
Perth, as part of linux.conf.au. Note that to attend you must first register for the main conference, which provides the venue. The Arduino Miniconf is part of LCA as a specialist stream for conference attendees: it's not a stand-alone event. See http://linux.conf.au/schedule/30084/view_talk?day=tuesday for more information.
Registration And Cost
Attendance is free (to linux.conf.au delegates) but if you wish to participate in the morning hardware assembly tutorial you will need to pre-register and purchase a kit for $110. Space is limited so get in fast! If you just want to come along and watch or attend the talks, you don't need to do anything. If you wish to participate in the hardware assembly tutorial, please submit the registration form:
| Arduino Miniconf 2014 Registration Form
Schedule
10:40 - 11:25 ArduPhone workshop 1 (assembly)
11:25 - 11:35 Break
11:35 - 12:20 ArduPhone workshop 2 (assembly)
12:20 - 1:20 Lunch
1:20 - 1:45 Talk 1: ArduPhone electronics - Jonathan Oxer
1:45 - 2:10 Talk 2: ArduPhone software - ?
2:10 - 2:20 Break
2:20 - 2:40 Talk 3: TBA - TBA
2:40 - 3:00 Talk 4: TBA - TBA
3:00 - 3:40 Afternoon Tea
3:40 - 4:00 Talk 5: TBA - TBA
4:00 - 4:20 Talk 6: TBA - TBA
4:20 - 4:30 Break
4:30 - 4:50 Talk 7: TBA - TBA
4:50 - 5:20 Lightning Talks (and project showcase)
5:20 Close
Hardware Assembly Project: ArduPhone
The hardware assembly project this year is designed to be easy for beginners to put together, even if they haven't soldered before, while still resulting in an amazingly cool end result. The ArduPhone design uses mostly surface mount parts which are all pre-fitted, leaving a small number of through-hole parts for you to solder on. You'll need to fit some connectors, solder in some buttons, and clip on some modules that contain most of the functionality pre-assembled and tested, so even if you're a total beginner to hardware hacking you'll end up with a working ArduPhone by the end of the miniconf.
An early prototype and unfitted parts: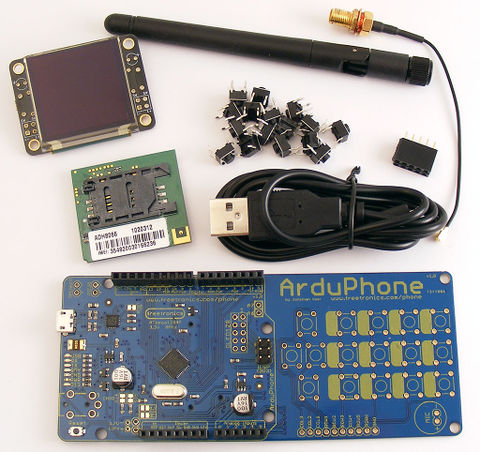 Prototype with screen, GSM module, buttons, and antenna fitted: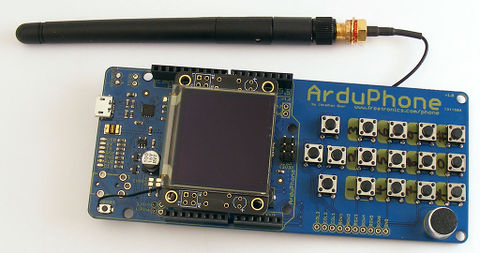 Features:
Arduino-compatible: run your own firmware, have 100% control of the phone
ATmega1284P MCU running at 3.3V, 8MHz. Custom board profile provided for Arduino IDE
Onboard smart LiPo charger
Charges from USB (variable charge rate to suit different batteries)
128x128 OLED display
ADH8066 GSM module (quad band GSM/GPRS)
Microphone and speaker connections for voice calls
Send and receive SMSs, and load web pages
Arduino headers so you can add more I/O: build it into your own project!
PCB can be cut in half to remove keypad
Note: SIM card NOT provided! You can get a pre-paid SIM for the ArduPhone before the conference, or temporarily install your own SIM for testing.
The complete ArduPhone kit will be $110, which includes everything required: main PCB, OLED display module, GSM module, antenna, even a USB cable.
Note that GSM ("2G") coverage is mostly limited to metro areas and major towns and highways, so it won't work in many areas where only 3G coverage is available. You can check Telstra 2G coverage using the map at www.telstra.com.au/mobile-phones/coverage-networks/our-coverage/ by selecting 2G in the "Network Type" option.
Previous Arduino Miniconfs
For historical reference: